---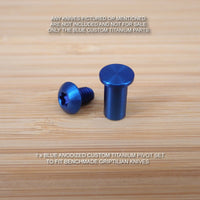 Also available in other custom anodized colors.  Just contact me if interested.

FREE WORLDWIDE SHIPPING IS INCLUDED!!!


Up for sale is a Brand New 2 piece...
Custom BLUE Anodized Titanium Pivot Set to fit
the New Benchmade Gray G10 Griptilian 550-1 & 551-1 Knives.


Upgrade the standard Pivot Set to a 2 Piece Rust Proof Custom Titanium Version.

This Custom Titanium Pivot Set fits the Benchmade G10 Full Sized Griptilian Knife series.


Notes on Anodizing: The stock G10 Griptilian Standoffs are a bright blue color on aluminum.
My Titanium Pivot Set will be anodized Blue too but this is not an exact color match as Aluminum and Titanium
anodizing use 2 totally different processes and result in 2 different shades of Blues. Please be aware of this!

Please note: No knives pictured or mentioned are for sale.


What is included in this sale is only the 2 piece Pivot Set to fit the original
Benchmade G10 Full Size Grip knife. Consisting of 2 x BLUE Anodized parts in total. 


This 2pc set includes the following titanium parts:
1 x Custom   BLUE Titanium Pivot Nut
1 x T15 Torx BLUE Titanium Pivot Screw


To install this Titanium Pivot Set, good quality Torx tools will be needed. (Such as Wiha Torx tools)
You also must be confident to take your knife fully apart and put it back together again. (youtube can help)

Please note: A bit of thread locking glue, plumbers tape or even a drop of nail polish is highly recommended on
the screw's thread. Just incase it rattles off over time, as an extra safety precaution.
Once you have received a colored titanium item. It may appear to have lost color once touched,
this is just the oil from your hands. If the oil been cleaned off the color will come back.
Slight color and machining variations may also occur between batches. Custom colors can be requested.
Other colors such as purple, yellow, natural raw titanium, light blue, brass, dark blue, bronze, gold etc.
Please Note:

Only 2 x BLUE Titanium Parts are for sale in this listing.

If you are an international buyer, I may request your phone number and confirmation that
you understand only the parts are only for sale. No knives mentioned or pictured are for sale.

Please contact me if you have any questions or offers.
Offers may be accepted if the right conditions and price is reached.
Terms and Conditions for International Orders:
If your country's main language is one other than English.
You will need to confirm that you understand,
NO KNIVES ARE FOR SALE.
I may contact you before sending to confirm that only parts are for sale.
If no reply has been made within 1 week, the sale will be canceled.
I will also cancel the order if the delivery address is unreadable or incomplete.
International orders are sent via Airmail and usually take around 2-3 weeks to arrive to you.
However orders can take longer to arrive depending on your country's air mailing delivery system.
Please do not buy if you cannot agree to this. All International items are sent via Airmail.
Sorry I have to keep repeating myself but there are many buyers especially from Non-English
speaking countries that assume the knife is also included.
I am just trying to make my listings as clear as possible that
NO KNIVES ARE INCLUDED
.
Sorry NO orders from Russia or surrounding countries will be accepted.
I just cannot read or write the language to be able to send out to you.
Orders from Italy must supply a phone number to add to the parcel and customs forms.
WORLDWIDE SHIPPING IS
FREE
!!!
I have other BLUE Custom Titanium Benchmade G10 Griptilian parts available.
Please check my other listings or contact me for more options.
(This set is also available in other colors: Brass / Bronze / Blue / Purple / Maroon / Distressed etc. Please contact me if interested).
Anodized Titanium Cleaning Tip:
To maintain the look of your new titanium parts.
Wipe clean with some Acetone but at the same time
be careful NOT to get Acetone on any G10, Carbon or FRN knife scales.
PLEASE NOTE:
These custom parts may need up to 1 week lead time to process after ordering.